Hugh Collinson
Page last edited 1,879 days 8 hours ago
From Strike Back Wiki
Occupation
SAS Captain (formerly)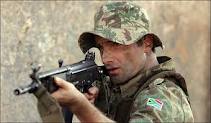 Major Hugh Collinson was Section 20's founding Commanding Officer and the previous commander of Section 20 of MI6, before Colonel Eleanor Grant.
Taliban mortally wounded Collinson while aiding John Porter's escape, and uses a grenade to kill the Taliban unit.
Biography
[
edit
]
He was formerly a Captain in Military Intelligence, spoke fluent Arabic and was involved in the Kenneth Bratton Extraction in 2003 with Sergeant John Porter.